PulmCrit: The surviving sepsis campaign 1-hour bundle is… back?
February 12, 2019 by Josh Farkas
The surviving sepsis campaign (SSC) has had substantial problems dating back to its inception. The original backbone of the guidelines was a single-center trial by Rivers, which has largely been debunked.1–4 Initially the SSC was slow to let go of invasive early goal-directed therapy. The SSC has finally started eliminating older dogma (e.g., superior vena cava oxygen saturation), but it's merely replacing it with newerdogma (e.g., 30 cc/kg fluid for all). This is more fashionable, but equally unscientific.
The SSC released a new one-hour bundle last year.5 This was an abrupt departure from all previous guidelines, which have recommended initiating treatment within 3-6 hours.6–9 The change was largely arbitrary, without new high-quality evidence to support it (indeed, all of these time cutoffs are arbitrary). Based on the epic failure of the 4-hour antibiotic rule for pneumonia, a 1-hour sepsis rule would likely lead to hasty management decisions and shotgun treatment.10–12
The 1-hour SSC bundle was met with considerable resistance.13  A petition to retract the new bundle received over 6,000 signatures.  Whether the surviving sepsis campaign should be retired was openly debated within the CHEST journal and at the ESICM conference:14–15 
These debates confirmed our suspicion that there is no high-quality prospective evidence supporting the 1-hour bundle. We didn't overlook it; it simply does not exist. When challenged to support the 1-hour bundle, the SSC referred only to retrospective studies (especially correlational time-to-intervention studies). Such studies cannot form the basis for international treatment recommendations. That would be akin to taking a drug from a phase-I clinical trial directly to the market (short-cutting phase-II or phase-III trials). A one-hour bundle has never been prospectively tested in any hospital, yet SSC wants to initiate it in every hospital.
In response to widely expressed concerns, in September the Society of Critical Care Medicine (SCCM) and the American College of Emergency Physicians (ACEP) issued a joint statement that hospitals should notimplement the one-hour bundle pending further review (shown below).  This statement was also endorsed by the American Academy of Emergency Medicine (AAEM).
Let's take a moment to reflect on how unusual this statement is.  Freshly released treatment recommendations should represent the crème de la crème of cutting edge, evidence-based medicine.  Such statements are usually well received and rapidly incorporated into practice.  The need for the American College of Emergency Physicians to step in and place a hold on implementing this is extremely unusual.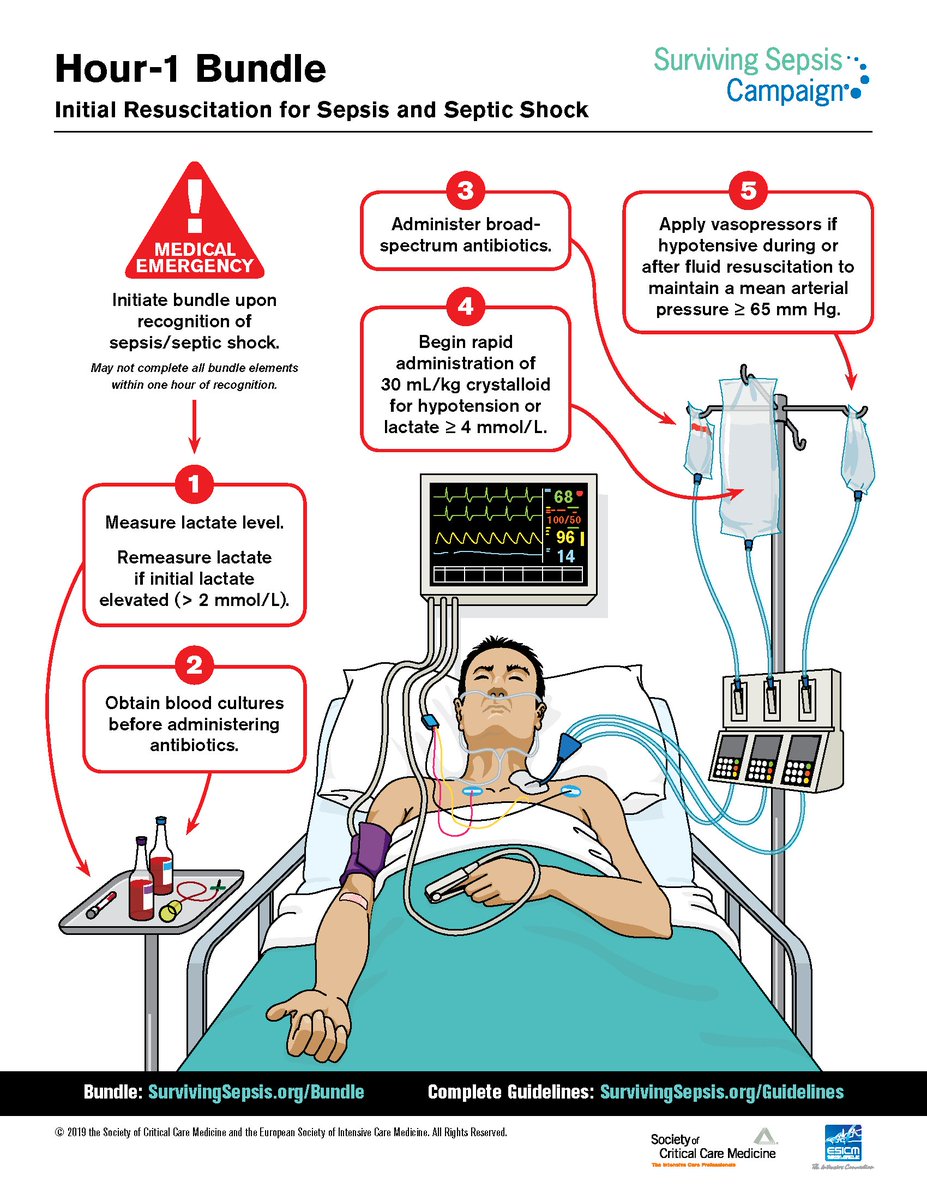 The SSC updated the 1-hour bundle with minor changes, leaving it nearly indistinguishable from the original version (tweet above).  The SSC has now resumed efforts to promote the 1-hour bundle, in collaboration with the Society of Critical Care Medicine (SCCM) and the European Society of Intensive Care Medicine (ESICM).  A spokesperson of the American College of Emergency Physicians (ACEP) commented on these developments as follows:
ACEP is disappointed that concerns about the safety of emergency patients with sepsis or symptoms of sepsis are not being heard by SCCM leadership. Treatment guidelines for sepsis should not take a one-size-fits-all approach across medical specialties or geographic regions. We will continue to try to work with SCCM leadership and other experts on practical sepsis treatment guidelines. Our priority is creating policy that ensures quality care for our patients and provides clear treatment guidelines applicable to emergency care.
Persistent efforts to promote the 1-hour bundle are unwise and inexplicable. The lack of adequate evidence undergirding the 1-hour bundle has now been clearly exposed. Thousands of healthcare professionals and two emergency medicine societies have expressed their concern.
For a fair presentation of both sides of this issues, see the full pro/con debate from CHEST freely available right here.  Please read this carefully, with attention to the level of evidence supporting various claims.  Consider also that the burden of proof lies with those writing international treatment recommendations.
Knowledge translation takes decades. Furthermore, de-adoption is harder than adoption. Therefore, the SSC will probably continue to myopically lumber forwards for some time. The arc of intensive care is long, but it bends towards evidence. For now, caveat emptor: pay careful attention to available evidence before considering implementation of the 1-hour bundle.
Further reading
References