Differentiating Atypical Haemolytic Uraemic Syndrome: Effective Strategies for Early Recognition and Diagnosis
Elie Azoulay, MD, PhD
Professor, AP-HP Paris Hospital
Professor of Critical Care, St. Louis Hospital
Paris, France
The following is a transcript from a multimedia activity.
Content developed in concert with faculty.
Abbreviation(s): ESRD: end-stage renal disease.
Reference(s): Azoulay E et al. CHEST. 2017;152:424-434.
Elie Azoulay, MD, PhD: Hello, this is Elie Azoulay from Saint-Louis Hôspital in Paris. Welcome to this activity on atypical haemolytic uraemic syndrome (aHUS). aHUS is a rare but devastating disease with a high mortality rate. A very high index of suspicion is necessary for a diagnosis of aHUS and to differentiate it from the many medical conditions and situations we face in critical care, in the emergency department (ED), and in other settings of medicine.
Abbreviation(s): ADAMTS13: a disintegrin and metalloproteinase with thrombospondin type 1 motifs, 13; HUS: haemolytic uraemic syndrome; TTP: thrombotic thrombocytopenic purpura.
Reference(s): Azoulay E et al. CHEST. 2017;152:424-434.
You can see on this figure that we are facing three different clinical situations when we have a thrombotic microangiopathy syndrome, which is a TMA syndrome.
One is caused by the Shiga toxin-producing E. coli, which is called STEC-HUS. You may also hear typical HUS. This condition is mostly seen in preschool children with bloody diarrhoea. The second is atypical HUS (aHUS). This type of HUS is atypical because there is no bloody diarrhoea, it occurs in adults, and it is actually complement mediated. The third entity is a rare disease called TTP, thrombotic thrombocytopenic purpura, which is diagnosed by low, undetectable ADAMTS13 activity. In adults, TTP is not congenital; it's mostly an acquired autoimmune disease with anti-ADAMTS13 antibodies.
Abbreviation(s): AFLP: acute fatty liver of pregnancy; GI: gastrointestinal; HELLP: haemolysis, elevated liver enzyme, low platelet count; MS: mental state.
Reference(s): 1. Scully M. Semin Thromb Hemost. 2016;42:774-779.
2. Gupta M et al. Pregnancy Hypertens. 2018;12:29-34. doi: 10.1016/j.preghy.2018.02.007.
When we are considering the situation in pregnant patients, one of the things that is very important to understand, is that, of course, pre-eclampsia or HELLP syndromes are much more frequent than TMA syndromes—aHUS occurs in about 1 in every 25,000 pregnancies, and TTP in about 1 in every 200,000 pregnancies.
Since aHUS can be unmasked by pregnancy, we need to keep in mind that there are many differential diagnoses that should be excluded, such as acute liver failure as well as pre-eclampsia and HELLP. aHUS should be considered especially in the post-delivery period, whereas TTP is much more frequent in the third trimester of the pregnancy—it may be severe in onset and it is associated with poor maternal and foetal outcomes.
Abbreviation(s): CNS: central nervous system; Hb: haemoglobin; LDH: lactate dehydrogenase.
Reference(s): 1. Azoulay E et al. CHEST. 2017;152:424-434.
2. Yoshida Y et al. Ren Replace Ther. 2017;3:5. doi:10.1186/s41100-016-0088-1.
So when should we suspect aHUS? When we have a TMA syndrome, we should always keep aHUS in mind. Clinical suspicion of a TMA is based on clinical findings, including a microangiopathic haemolytic anaemia and thrombocytopenia. This is a TMA. We also need to perform a very careful clinical examination as well as a diagnostic workup to assess organ involvement, and these should be performed as early as possible. Kidney injury or renal impairment is the most common complication of aHUS and is central in the diagnosis of aHUS. However, other organ involvement may be present as well.
Reference(s): Azoulay E et al. CHEST. 2017;152:424-434.
Clinical examination is therefore very important because the patient may have, for instance, GI abnormalities with diarrhoea, pains related to pancreatitis or intestinal bleeding, and this needs to be recognised very early. Cardiovascular involvement (for example, cardiomyopathy or heart failure) can be identified by chest pain, electrocardiogram (ECG) or by the troponin evaluation, and echocardiography. We also need to have a very careful evaluation of the central nervous system (CNS) to determine neurological damage. This implicates involvement of not only the intensive care unit (ICU) staff, but also other specialists.
Abbreviation(s): DIC: disseminated intravascular coagulation; ICU: intensive care unit.
Reference(s): Azoulay E et al. CHEST. 2017;152:424-434.
In the ICU or the emergency department, we know that when we have signs consistent with a TMA syndrome plus renal involvement, we need to exclude conditions such as transplantation, drug-related TMA, disseminated intravascular coagulation (DIC), and sepsis, which can occur in patients with septic shock or with other causes of DIC. Once we have eliminated these differential diagnoses, we know we are faced with a TMA syndrome and we have three choices: typical, or STEC-HUS; atypical, or complement-mediated, HUS; or TTP.
When we suspect a TMA syndrome, testing for or asking the patient about possible pregnancy may be useful to identify potential triggers, but keep in mind that pregnancy does not exclude a TMA syndrome, including an aHUS.
Abbreviation(s): EHEC: enterohaemorrhagic Escherichia coli.
Reference(s): 1. Azoulay E et al. CHEST. 2017;152:424-434.
2. Yoshida Y et al. Ren Replace Ther. 2017;3:5. doi:10.1186/s41100-016-0088-1.
The next step is to measure ADAMTS13 activity, which is the cornerstone of management. On the one hand, it is able to confirm a diagnosis of TTP. On the other hand, the same test is useful in identifying aHUS.
When ADAMTS13 is undetectable—that is, less than 10% of the cases—we are facing a case of TTP. When ADAMTS13 is normal—or detectable—and there are no E. coli in the stools and no Shiga toxin positivity, and after having excluded other differential diagnoses, it is a confirmed aHUS.
Sometimes at the very early stage, it's difficult to differentiate between aHUS and TTP. Renal involvement is nearly always present in patients with aHUS; it can also occur in some patients with TTP. Therefore it is not conclusive for aHUS. However, when you have a patient with a very high level of kidney insufficiency or who requires renal replacement therapy immediately after admission, it's very likely that you are facing a case of aHUS. You may have acute kidney injury in TTP, but it is very rare that the level of kidney insufficiency is at this level or requires dialysis at admission.
When the patient has a very low platelet count—let's say below 10,000 per μl—plus mildly elevated serum creatinine and detectable antinuclear antibodies, for example, then it is very likely to be a case of TTP (Coppo P et al. PLoS One. 2010;5:e10208). But it's important to remember that there are some overlaps, and it is not always possible to base management solely on the basic laboratory data. So ADAMTS13 is really needed in all cases.
Abbreviation(s): DAF: decay accelerating factor; MAC: membrane attack complex.
Reference(s): 1. Meri S. Eur J Intern Med. 2013;24:496-502.
2. Sridharan M et al. J Immunol Methods. 2018;461:15-22.
Research has shown that aHUS is a disease of the alternative pathway of the complement system. That's why, in some patients with aHUS, C3 levels may be decreased. So complement testing may help to confirm suspected aHUS. When it is decreased for the C3, aHUS [should be seriously considered]. But aHUS can have a normal C3. And of course the rest of the complement testing takes so long that we do not wait for the results to say that we are facing a case of aHUS.
Reference(s): Azoulay E et al. CHEST. 2017;152:424-434.
Can we simplify the path to diagnosis? Well, we can certainly make sure to perform a very careful clinical examination and to initiate a diagnostic workup immediately at admission. When these assessments reveal kidney involvement, a thrombocytopenia with a platelet count that is not very low, GI signs associated with renal injury, and possibly CNS and cardiac involvement, then we need to keep a very high level of suspicion for aHUS, and we need to shorten as much as possible the turnover time for ADAMTS13 activity testing.
When ADAMTS13 activity comes back detectable, and we have no Shiga toxin E. coli in the stools, we need to exclude other differential diagnoses. And once that is complete, we can start the appropriate treatment because we are facing an aHUS.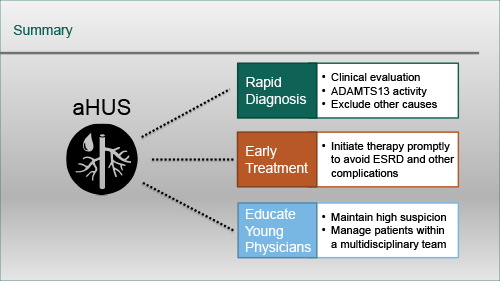 In summary, it is most important that we have an efficient strategy for the rapid diagnosis of aHUS based on clinical evaluation, ADAMTS13 activity, absence of Shiga toxin and E. coli in the stools, and excluding differential diagnoses such as transplantation, and drug-related TMA syndrome. We also need to be alert to additional triggers, such as pregnancy, in which aHUS may mimic other conditions, such as pre-eclampsia, HELLP, and TTP.
Secondly, we need to strike a balance in terms of the time we take to confirm the diagnosis. The thorough clinical examination, tests to confirm a TMA syndrome, and ADAMTS13 testing are all vital to ensuring proper diagnosis and management. However, we cannot wait for the results of complement data—which may or may not show a low level of C3. Once the diagnosis is made, we need to start appropriate therapy as soon as possible.
In the future, we need to improve the skills of our young physicians so that they can maintain a high level of suspicion for the diagnosis of aHUS. We need to shorten the turnaround time for ADAMTS13 activity, and to manage these patients within a multidisciplinary team in order to protect the organs and improve outcomes over the long-term.
Thank you very much.