Trending Clinical Topics for June 2018
Ryan Syrek
June 29, 2018
Each week, we identify one top search term, speculate as to what caused its popularity, and provide an infographic on a related condition. If you have thoughts about what's trending and why, feel free to share them with us on Twitter or Facebook!
Trending Clinical Topic of the Week (June 23-29): Cannabis
News about the largest developed country to end a nationwide prohibition on cannabis, and a study revealing an association with psychosis, resulted in this week's top search term. By a vote of 52-29, the Canadian Senate voted to legalize cannabis. Although Prime Minister Justin Trudeau had expressed a desire to make marijuana legal by July, implementation of legalization will occur in October of this year. Of note, a recent study from Canada published in JAMA Psychiatry found that cannabis use directly increases the risk for psychosis in teens. The effect was observed in various study participants, not only in those with a family history of schizophrenia or a biological factor that increased their susceptibility to cannabis. This study is potentially concerning because a review published earlier this year revealed that many physicians are unfamiliar with current risks associated with cannabis use, and many also had only basic, dated knowledge about newer cannabis products. As medical and recreational legalization continue domestically and worldwide, doctors will continue to seek out information to help establish an educated, healthy, and—hopefully—honest dialogue with patients.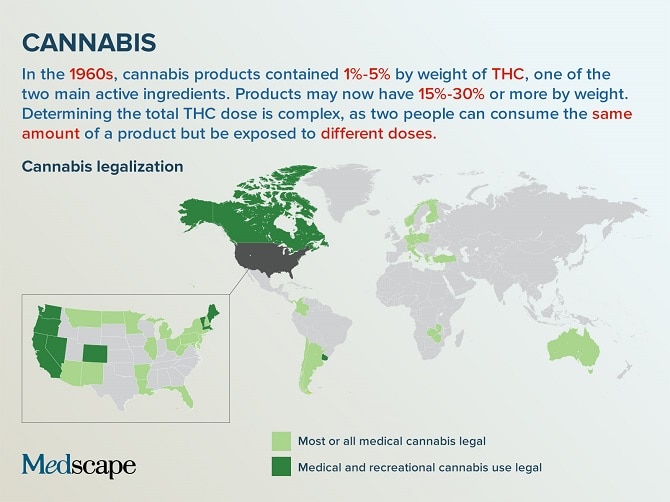 For more information on cannabis-related disorders, read here.
Trending Clinical Topic of the Week (June 16-22): Rhabdomyolysis
A teenager from Texas and concern about a popular exercise trend led to this week's top search term. Recently, a 17-year-old in Texas discovered that what he thought was simple muscle soreness after an intense workout was actually something much more serious. Rhabdomyolysis can lead to severe electrolyte abnormalities, acute kidney injury and renal failure, and disseminated intravascular coagulation. Although exceedingly rare, rhabdomyolysis due to exertion or strenuous exercise is possible. This has created some concern about spinning classes and other high-intensity programs that have become increasingly popular. Because exercise is so beneficial, patients are not being encouraged to avoid any particular workout programs; instead, patients are advised to gradually increase the time, weight, and intensity and to start slow when beginning a new routine. Although other causes of rhabdomyolysis are much more common, recent focus on exercise-associated concerns helped make this term the top trending clinical topic of the week.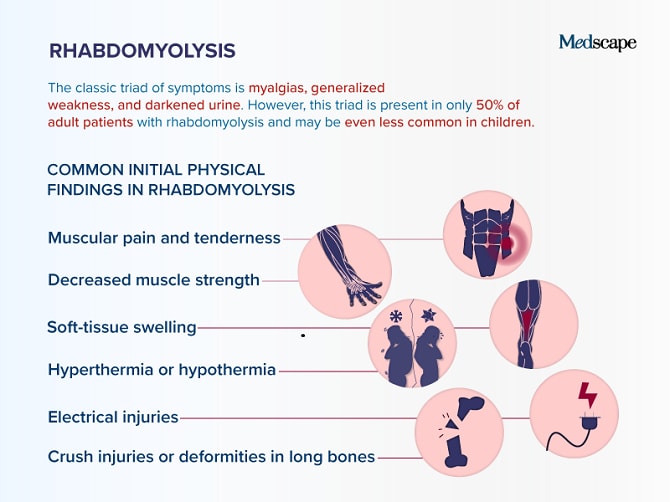 For more information on rhabdomyolysis, read here.
Trending Clinical Topic of the Week (June 9-15): Colorectal Cancer
New guidelines, a report on the cost of treatment, and information about affected populations all contributed to the increased popularity of this week's top search term. The American Cancer Society (ACS) recently recommendedthat the age for initial colorectal cancer screening be lowered from 50 years to 45 years. Part of the reason for this change is evidence of increased incidence. New research indicates a 3% annual increase in rectal cancer malignancy rates in individuals younger than 50 years. These rates are rising primarily among female and white populations. Making the situation even more worrisome, a presentation at the annual meeting of the American Society of Clinical Oncology (ASCO) reported that the cost of treating advanced colorectal cancer is twice as high in the United States as it is in Canada, despite similar outcomes. The mean monthly cost of first-line therapy per patient in the United States was $12,435, compared with $6195 for similar treatment in Canada. From screening to treatment, important information about various aspects of colorectal cancer resulted in this week's top clinical trend.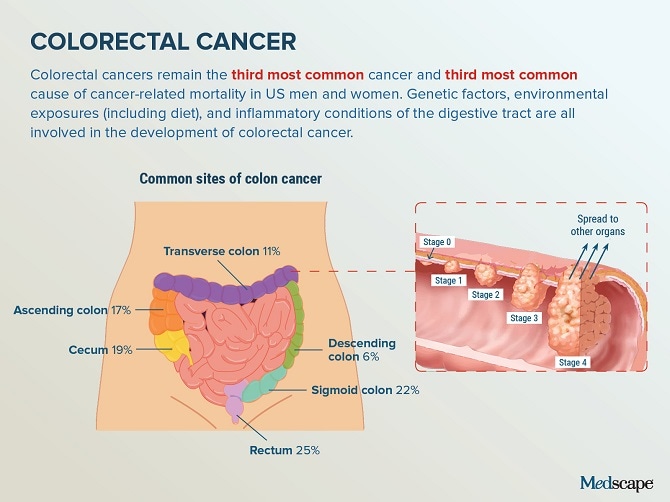 For more information on colorectal cancer, read here.
Trending Clinical Topic of the Week (June 2-8): Skin Cancer
Along with the upcoming summer season, several significant studies increased the popularity of this week's top search term. Perhaps most notably, a new study found that a form of artificial intelligence, known as a deep-learning convolutional neural network (CNN), arrived at more accurate diagnoses for both benign and malignant skin lesions than did dermatologists. Although expert dermatologists performed better than those with less experience, the CNN still had a higher specificity. While nobody seems prepared to turn over cancer diagnosis to artificial intelligence at this point, the investigators suggest that a CNN algorithm may be able to help physicians in detecting melanomas. Another new study concluded that taking the antihypertensive drug hydrochlorothiazide (HCTZ) poses a risk for skin cancer, specifically squamous cell carcinoma (SCC) and basal cell carcinoma (BCC). The findings suggest a need to screen patients taking HCTZ for SCC and BCC, and to consider alternative agents in patients with a risk for skin cancer. And finally, a bit of good news: A study from Vienna found that weight loss surgery was associated with a substantial reduction in the risk for skin cancer in general and malignant melanoma in particular. Increased attention on skin cancer due to summer activities as well as these significant studies combined to raise the profile of this week's top search term.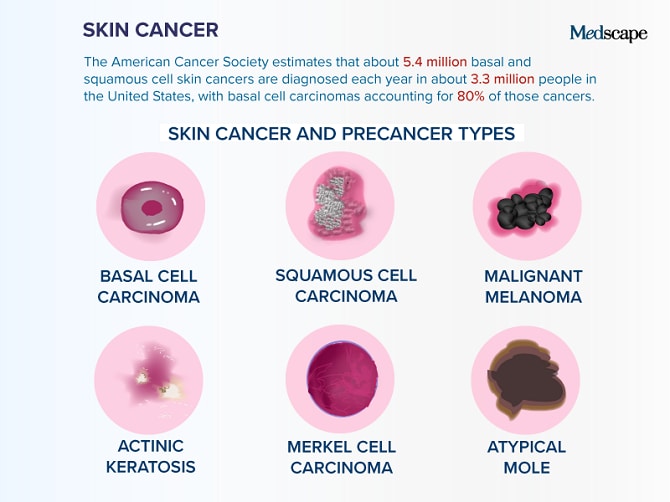 For more information on malignant melanoma, read here.